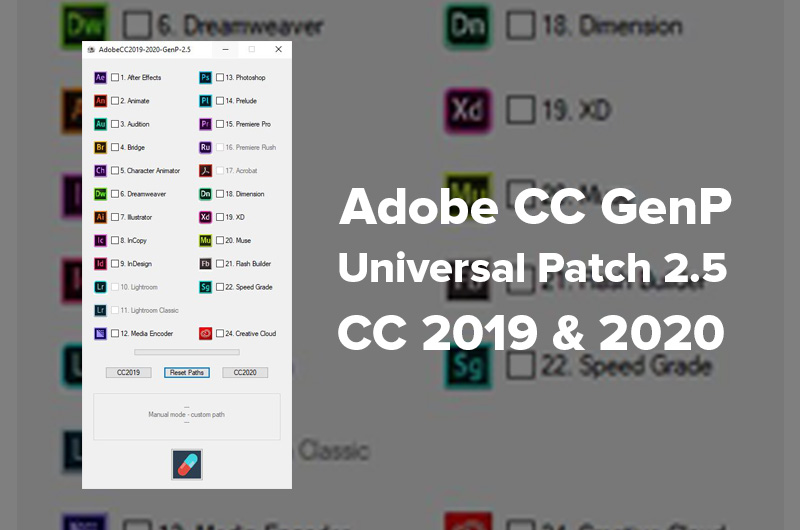 Adobe CC 2020 GenP 2.5 Universal Patch Crack Full Version for Windows
THIS IS ADOBE PRODUCT'S UNIVERSAL PATCHER. IT CAN PATCH ALMOST EVERY PRODUCTS OF ADOBE CC 2020 & CC 2019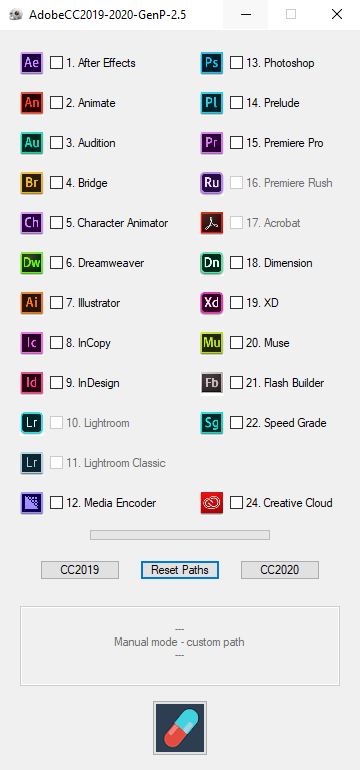 Adobe Acrobat DC 19.x (universal amtlib)
Adobe After Effects CC 2019 – 2020
Adobe Animate CC 2019 – 2020
Adobe Audition CC 2019 – 2020
Adobe Bridge CC 2019 – 2020
Adobe Character Animator CC 2019 – 2020
Adobe Dreamweaver CC 2019 – 2020
Adobe Illustrator CC 2019 – 2020
Adobe InCopy CC 2019 – 2020
Adobe Indesign CC 2019 – 2020
Adobe Media Encoder CC 2019 – 2020
Adobe Photoshop CC 2019 – 2020
Adobe Prelude CC 2019 – 2020
Adobe Premiere Pro CC 2019 – 2020
Adobe Acrobat CC 2020
Adobe Creative Cloud CC 2020
Adobe Dimension CC 2020
Instructions:
1. Download all the apps you need using Adobe Creative Cloud.
2. Turn off your antivirus and run the patch via "RunMe.exe"
3. Click on "CC2019" to patch all CC 2019 products or click on "CC2020" to patch all Adobe CC 2020 products.
4. Click on the "Medicine" button at the bottom and wait for a while. It would download required files from the internet so give it some time.
5. Enjoy new apps. Creative Cloud Library is working.
P.S Adobe Lightroom, Adobe Lightroom Classic CC, Premiere Rush doesn't work with this patch.
Please note that Adobe Photoshop, Illustrator and InDesign DOES NOT work offline with this version.
Please use this patch and test other Adobe products and let us know about it in the comments.
This patch works on latest Adobe products released and tested on 06th April, 2020.
Adobe CC 2020 GenP 2.5 Universal Patch Crack Full Version for Windows
Please read FAQ if you need basic help.