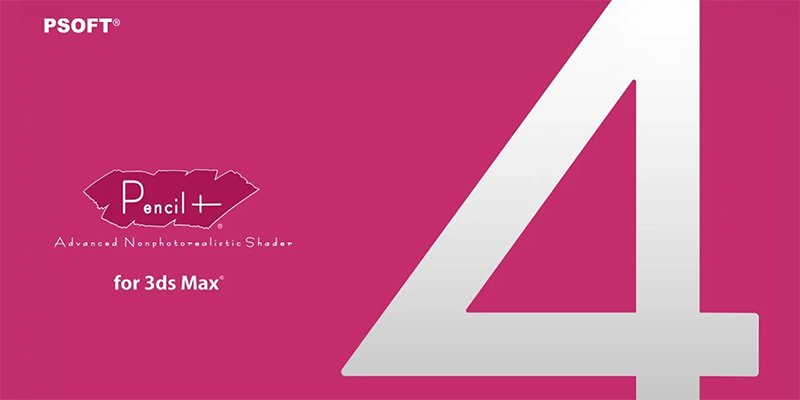 PSoft Pencil+ 4 is a toon shader plugin for 3dsmax 2015 – 2018 for render like Anime.
PSOFT Pencil+ 4 Features
PSOFT Pencil+ 4 for 3ds Max is a non-photorealistic rendering plugin which can reproduce the appearance of pen-and-ink and color pencils drawings as well as animation cels.
Materials with a high level of expressiveness.
Pencil+ 4 can reproduce the flat look of cel shading and the texture of pencil sketches. It provides fine control over shading and enables unique presentations where only specific materials are drawn to the foreground. It makes it possible to create revolutionary artistic textures.
Nitrous Shader
Pencil+ 4 Materials can be displayed in real-time in the Nitrous viewport. Highlights and zones can be reviewed with a quality close to the rendering result.
Material Penetration
With material penetration, materials hidden behind objects can penetrate those objects to be rendered as if they were in front.
Light Intensity Control
Light intensity can be modified for individual materials, providing more detailed control over highlights and shading.
Improved Usability
The user interface is more user-friendly and the affinity with 3ds Max is increased.
Enhanced gradation bar editing
Support for gamma / LUT correction
Adjustable line set list height
Display of data in lists
Switch the display language of the user interface
Fast and beautiful line drawing.
Pencil+ 4 Line functionality can be used to create a wide range of richly expressive lines such as uniform lines, lines jutting out of objects, rough sketch lines or lines with width modulation like those found in Japanese manga.
Multithreaded Rendering
The Pencil+ 4 Line rendering engine now supports multithreading and multiple platforms. It can quickly draw lines even for complex scenes with thousands of overlapping objects.
Line External Reference
You can use external references for Line settings.
Extended Line Settings
New edge detection settings were added.
"Selected Edge" draws lines on selected polygons and edges.
"Open Edge" draws lines on open edges of polygons.
"Merge Group" draws on multiple grouped objects as though they were a single object.
"Self-Intersection" draws lines where an object intersects itself.
Reduction settings can now be copied as instances.
Unique modifiers.
Create exaggerated perspectives as if they were hand-drawn or perform shading computation using an object with a different shape.
Powerful render elements output.
Output materials and lines to separate files for compositing. You can also output lines to EPS format.
Please read FAQ if you need basic help.