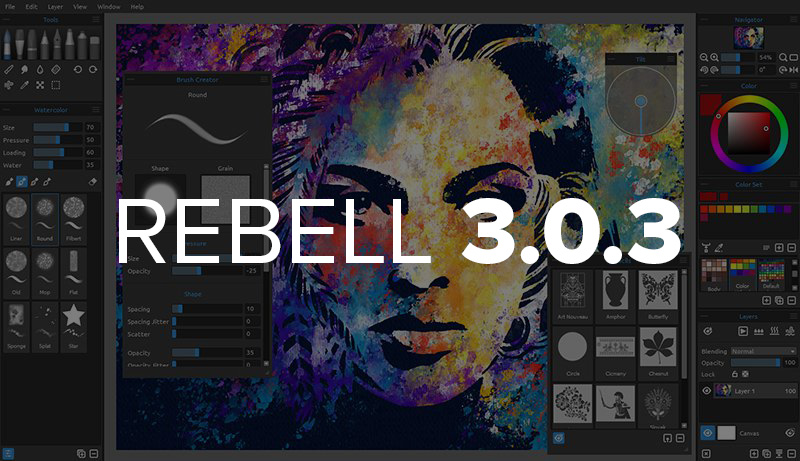 Rebelle is a one-of-a-kind paint software that lets you create realistic watercolor, acrylic, wet and dry media artwork, using real-world color blending, wet diffusion and drying.
Ultra Realistic Papers
Watercolors are an "alive" medium. It can behave differently according to how it's used and the surface to which it's applied, especially watercolor papers. Rebelle 3 adds support for a number of professional watercolor papers in addition to the existing textured paper backgrounds.
Rebelle 3 features various presets for watercolor behavior based on the underlying paper, so you can immediately take advantage of the options and improve the quality of your work.
Amazing Watercolors
To adapt the watercolors to these new types of paper, a lot of work was put into making the watercolors more realistic than ever. In addition to these changes, a new Visual Settings panel was created where you can customize the watercolor behavior, your acrylics and the canvas settings.
New "DropEngine"
Rebelle 3 includes a new "DropEngine" to better simulate and control drips and to connect it with the improved watercolor simulation. The engine also allows for the drips to be controlled by the paper type and other factors to produce the most natural look for your work of art.
More Realistic Blow Tool
The Blow Tool in Rebelle 3 makes the creative process that much more fun by giving you the ability to simulate using a straw to blow drips across your painting for even more watercolor effects. Use the tool to blow from different angles and even blow different colors next to each other creating a mix of beautiful splatters.
'Masking Fluid' layer
Building upon the advanced masking features from the previous version, Rebelle 3 goes even further to provide a quick and easy way of coloring sketches and images. Rather than try to explain this, watch this speedpainting demonstration.
'Reference Image' panel
Reference image panel was one of the most demanded features from current Rebelle users. This panel will serve as a visual guide while you paint. You will be able to place the panel anywhere on the screen, docked or floating, and open a reference image, sketch or photo into it. You can zoom in/out the image or desaturate the image with 'Greyscale' button.
'Preview' panel
In addition, Rebelle 3 will feature another new panel which is very useful for all artists no matter their style. Preview panel is very practical when you work on detail but you don't want to zoom in & out all the time to see the whole picture. This panel can be set to fullscreen mode and placed on a secondary monitor, so you have a nice large preview of your painting.
Please read FAQ if you need basic help.