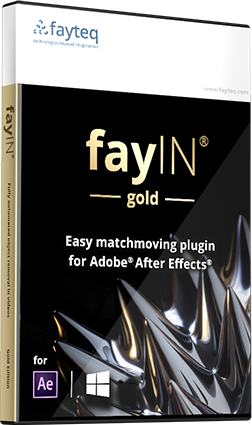 fayteq fayIN Gold 2.4.1 for After Effects CC 2015, CC 2015.3 & CC 2017
Experience the ease of camera tracking and digital content integration.
fayIN Gold is highly efficient camera tracking and full automated insertion of digital contents for Adobe After Effects. The plugin facilitates object tracking and insertion of digital content. Save valuable time and increase your sales potential.
This small but important update to fayIN makes it ready for the new Adobe release of After Effects CC 2017.
fayIN is camera tracking and digital content integration combined in one plugin. Benefit from its new easy-to-use workflow inside After Effects.  There is no need to import & export between different software environments anymore. fayIN reduces your production costs through high quality tracking results and a new and fast tracking and content-integration workflow.
fayIN 2.4.1 Update
If you have already installed the CC 2017 version of After Effects, you will need to get this new fayIN installer to continue working with fayIN. Otherwise you can also use the update function within the fayIN Control Center of After Effects.
FAYIN GOLD:
Hello 3D Artist. This is for you!
The long wished-for Gold feature is implemented: With fayIN Gold you can now export your camera and tracking data. This paves the way to easily integrate your 3D footage in your video!
Features: With fayIN Gold, you have access to all fayIN functions and features – time-savings and workflow facilitations included. Plus: easily export your tracking data to create native 3D camera and 3D object layers. Additionally, benefit from staying in After Effects CC and using the 3D workflow you are already familiar with.
Best for: 3D and motion graphics artists who are looking for the most precise and easiest tracking solution.
Please read FAQ if you need basic help.