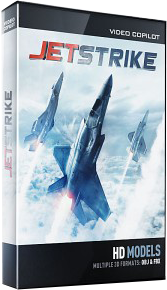 Video Copilot JetStrike pack for Element 3D
Take to the skies with Jetstrike!
Video Copilot Jetstrike is the perfect tool for aerial creation and mayhem! It includes highly detailed models of Military & Commercial Jets. Numerous detailed texture skins as well as Dual 4K Textures. Jetstrike is fully rigged in Video Copilot Element 3D. If you're ready for the action, here it is!
RIG KEY FEATURES:
Landing Gear
Turbines and Propellers
Exhaust Intake Nozzles
Flaps, Slats, and Elevators
Rudders and Ailerons
Weapons Bays and More!
CUSTOMIZABLE PLANE DECALS
GET CREATIVE:
Create stunning formations
Create epic establishing shots
Add more urgency with a jet flyby
Create an Airliner taking off or landing
Practice film compositing
Launch some rockets and blow some stuff up!
INSTALLER
FlightKit 360 Sky Maps
JetStrike Resources
JetStrikePSD Files
Please read FAQ if you need basic help.