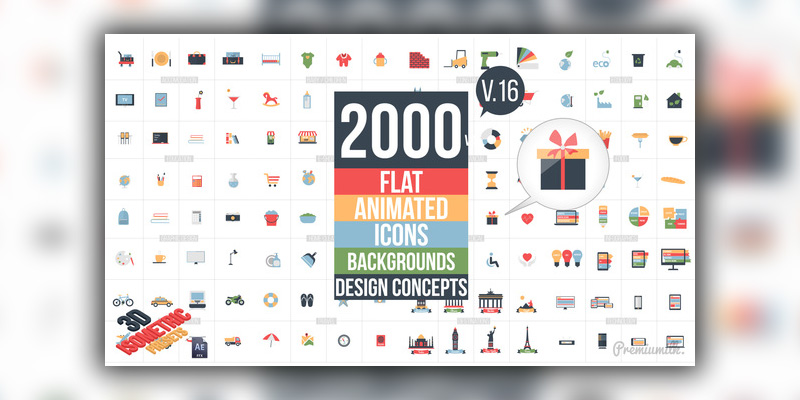 VideoHive – Flat Animated Icons Library
2000 Flat animated icons / backgrounds design concepts
Features:
CS6 CC 2014, CC 2017, CC 2018 Compatible Project
Full HD resolution (1920×1080)
100% After Effects Template
No plugins required.
Well Organised Project.
Easy Controller.
Universalizer Controller Included (Compatible with any language)
Tutorial with voice over included.
74 Categories Included:
Accommodation, Agriculture, App Settings, Arrows, Automotive, Avatars, Baby Children, Badges, Beauty, Bubbles, Buldings, Casino, Camera, Car Service, Clothing, Celebration, Construction, Cinema, Corporate, Creative, Counters, Dentist, Digital Marketing,
Design Tools, Documents & Software, E-Commerce, E-shop, Ecology, Education, Electronics, Emotions, Energy, Entertainment, Environmant, Financial, Fitness, Food, Graphic Design, Hands, Hangtags, Home Interior, Home Cleaning, Infographics, iwatch, Law & Justice, Medical,
Occupation Hats, Office, Pets, Real Estate, Ribbons, Science, Security, SEO, Shopping, Social Media, Sports, Sound & Music, Summer, Technology, Transportation, Travel, Travel Destination, Weather, Web, Wedding, Xmas
Controller Features:
Color Controls 1-7
Please read FAQ if you need basic help.